Yesterday I had a long drive back to my home in PA after spending about a month in Massachusetts where my organization was doing work on behalf of the Warren campaign. It was a five-state (all blue!), five-hundred+ mile journey, so I had a lot of time to think. And the one question I couldn't get out of my head was this:
If Barack Obama won a decisive electoral college victory AND the popular vote AND Democrats picked up several important Senate seats (winning all but one of the "close" elections in the Senate) and there was great turnout in Democratic districts across the board--then how the hell did the GOP keep a nearly forty vote margin in the House?
Now, I know there are split tickets and the like (something we were working hard to keep down in MA, as when I got there quite a few voters identified as Obama-Brown), but how many people vote Democratic for president, Democratic for the Senate, and then vote GOP for the House? Is that what happened? I was itching to get home and look at the results of the House races. What the hell had happened?
It turns out that Democrats actually received more votes for the House of Representatives than Republicans did.
That bears repeating:
Democratic candidates for the House of Representatives earned MORE votes than Republican candidates did.
So split tickets aren't a likely reason for the GOP keeping solid control of that body. What's the other possible explanation?
Now, distraught already did a great job of analyzing the gerrymandering results in PA, OH and VA and showed just how skewed they are compared to a state like IA that has districts drawn by a non-partisan commission. Please follow the gerrymandering link for that. But I do want to say a few things about why I think this is a very important topic for discussion.
First, it counters GOP claims that there was no "mandate" in this election. Democrats got more votes for president, senate and house. All three. To deny it and work to block the Democratic agenda is a sign the GOP still believes it can alter the rules of the game to win elections and doesn't have to adapt to a changing electorate.
Second, it shows the HUGE importance of midterms and just how costly it was for disillusioned progressives to sit out the 2010 midterms. Sure, maybe you were disappointed with the president and the Congress. Sure, maybe you wanted a public option (like I did) or a single-payer system for healthcare and not what we got in the Affordable Care Act (like I also did but felt was highly unlikely to happen). If you really wanted to register your protest, you could have left Congressional races blank. But in not showing up at all, we allowed the GOP to win big majorities in state legislatures it had no business winning. Here in PA, a blue state, we got a Republican governor, state house, state senate, and US Senator in that election. And boy did we feel the effect last night.
Third, local elections are just as important and have huge impacts on national ones and you CAN gerrymander election victories. Pennsylvania, my home state, is just the most disgusting evidence for this. In a state where Democratic House candidates out performed their GOP opponents by a 50-48 margin as a whole, the GOP still managed to win 72% of the House seats! That's 13 of 18 House districts going red in a blue state!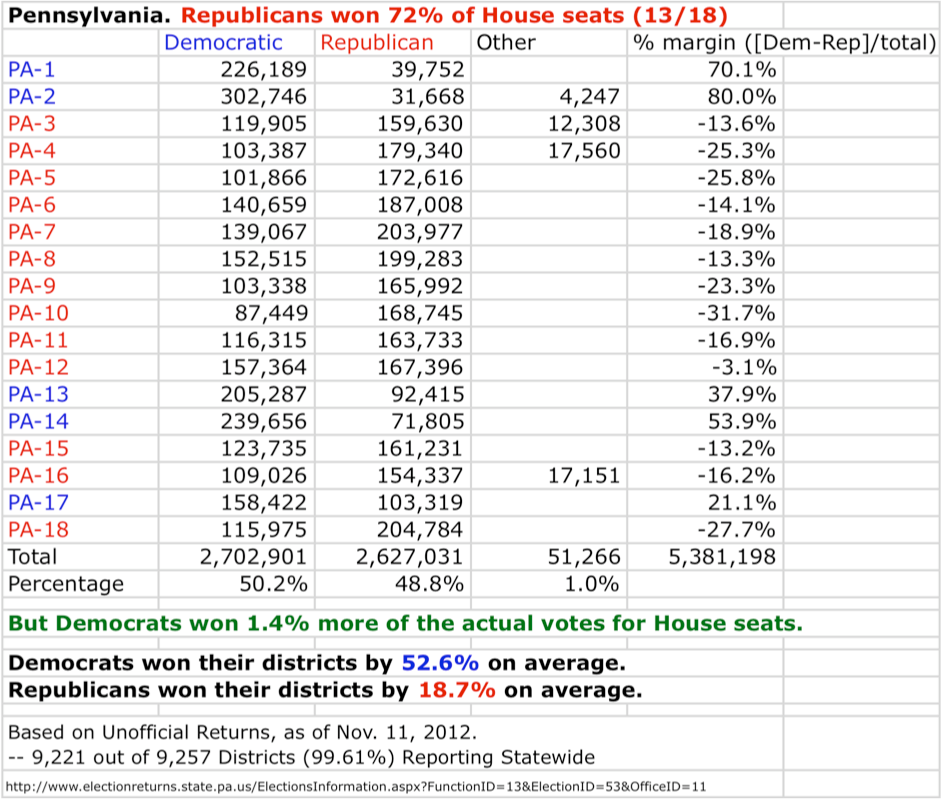 Fourth, gerrymandered districts further help conservative candidates these days because of the influence of money. I feel the best evidence of this is in PA-12, where Keith Rothfuss, who no one here in western PA had ever even heard of before, narrowly defeated Mark Critz by a 52-48 margin in a redrawn district. Before I left for MA, Pittsburgh TV was full of anti-Critz ads (though the city of Pittsburgh was not a part of the district) like this one calling a bobble-head Critz "Obama's Yes Man."
In the end, the PA-12 race, in a rust belt district with seriously distressed economic areas like Johnstown, Aliquippa and Ambridge became the third most expensive House race in the country. And while labor and its allies fought back bravely, you just can't compete with high quality (in terms of production value) ads going day and night and even during Steeler games. (I have to imagine that's about the priciest ad buy in the western PA market)
And the GOP could focus almost all of its efforts into this one race because it was the only truly close contest. Sure, Dems could too, but we all know who has the money advantage.
Finally, it shows that political activism cannot end after a presidential election. We have real work to do over the next four years. We need to keep the pressure on the Democrats who did win to stick to their principles. We need to let GOP winners know we are going to hold THEM accountable for what they do. We need to show up at midterms. We need to stay active. We can't let laziness or disappointment--and there WILL be disappointment with a GOP controlled House, you can bet on it--keep us from the midterms in 2014. And we should be thinking NOW about local and state elections in 2020 when a new census is taken and new districts will be drawn again.
I would also like to see real reform in how districts are drawn, but that is perhaps a pipe dream for now. But it CAN happen with voters who are AWARE of the problem and ACTIVE in pushing their representatives to do something about it.