When you try to talk to people about the American Legislative Exchange Council (ALEC) it's common to have the charge of conspiracy theory thrown against you. The problem for the corporate lobbying deniers is that there's a mountain of evidence to demonstrate ALEC's role in pushing a variety of controversial bills at the state level. For example, the recent Right to Work (For Less) bills passed in Michigan most definitely have ALEC DNA. Brendan Fischer from the Center for Media and Democracy lays it out clearly, comparing the language of ALEC's "Right to Work Act" and the text of HB 4003 and HB.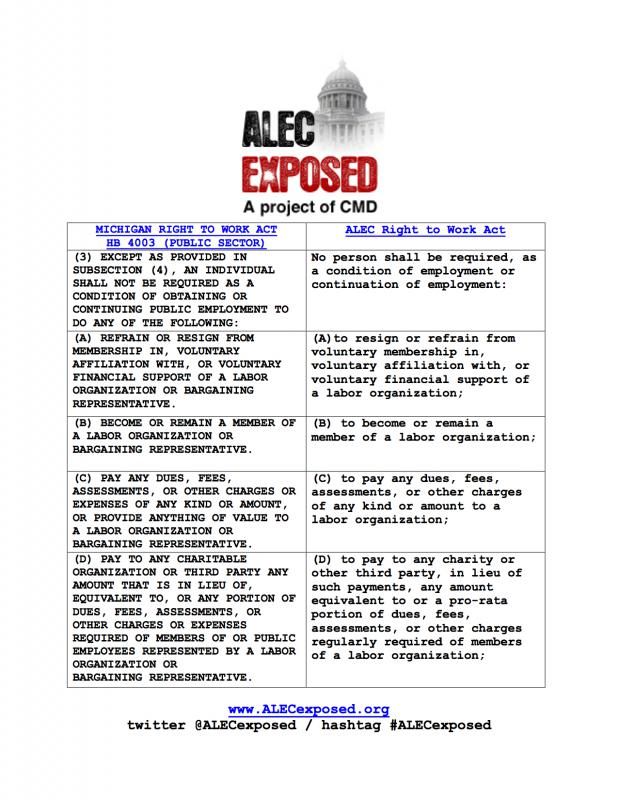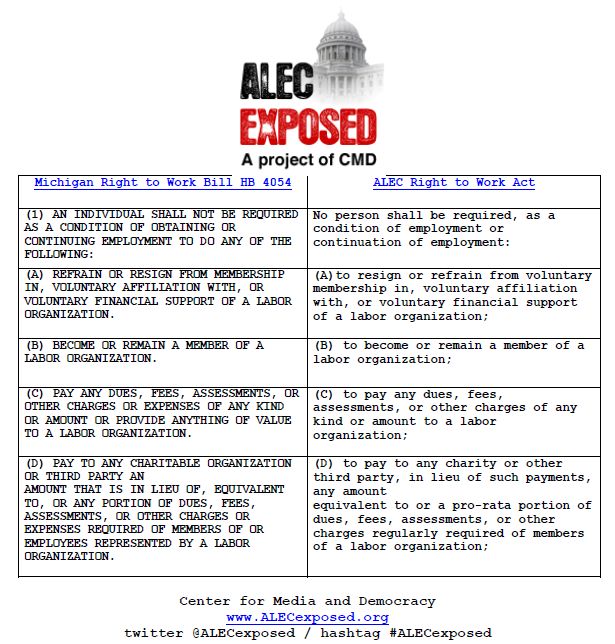 Chain of Influence
This is where things get interesting. Text matching is interesting, but ultimately it's influence that we are after. That requires more evidence. Which requires that we have a very good notion of how a bill becomes a law.
Although we know that the plagiarized from ALEC's model bill, every bill begins with legislative sponsors. HB 4054 never made it out of the House, however at least 2 of its sponsors have a confirmed relationship to ALEC:

Rep. Tom McMillin
Rep. Peter J. Lund
In the Right to Work (For Less) bill that made it out of the Michigan House was
HB 4003.
Here again, at least 7 of its sponsors have a confirmed relationship to ALEC:
Rep. Dave Agemma
Rep. Judson Gilbert
Rep. Kenneth Horn
Rep. Kenneth Kurtz
Rep. Tom McMillin
Rep. Aric Nesbitt
Rep. Amanda Price
After first reading, HB 4003 was referred to the House Commerce Committee. On April 26, 2011 the bill
was introduced
and passed with little comment beyond a statement of support filed by the National Federation of Independent Business, the recipient of ALEC's 2011
Private Sector Member of the Year Award.
Among those Representatives referring the bill to the Committee on Family, Children, and Seniors, was Rep. Peter Lund, who sits on ALEC's Commerce task force, the one one responsible for their "Right to Work" Act.
On May 24, 2011 the Committee on Family, Children and Seniors passed the bill on to the House floor. Oddly, the minutes of that meeting are not available on the committee's website, although those of the meetings before and after are. As well testimony from an AFSCME rep is similarly available. I would hope that this is a clerical error, but it does raise eyebrows. From the House Journal we can get an abbreviated version of the committee report. Here, we find out the the committee chair, who voted for the bill, is an ALEC member, as is Rep. Gail Haines, another Republican member of the House Committee. Needless to say this makes me very curious what's in those missing committee minutes.
After emerging from committee, HB 4003 was passed on the House floor on June 8th 2011 in Roll Call #166. Again, among the legislators supporting the bills, ALEC ties pop up:

Majority Caucus Chair Dave Agema
Rep. Peter J. Lund
Rep. Amanda Price
Rep. Kenneth Horn
Rep. Tom McMillin
Rep. Aric Nexbitt
Rep. Mike Shirkey
Rep. Gail Haines
Rep. Ellen Kowall
Rep. Kenneth Kurtz
Rep. Judson Gilbert
Rep. Matthew Lori
After passing the house, the bill was sent to the Senate, and referred to the Committee on Reforms, Restructuring, and Reinventing the next day. There it sat until the end of November of 2011.
On November 30th, 2011, the Committee on Reforms, Restructuring, and Reinventing heard testimony on HB 4003. Representatives from the SEIU and AFSCME spoke in opposition, while the National Federation of Independent Business spoke in favor. Patrick Wright of the Mackinac Center for Public Policy is recorded as taking a neutral position, which I find hard to belief. First, Mr. Wright has a record which indicate that he would most likely support the bill under consideration. Second, the Mackinac Center itself is a an ALEC member. The House Committee itself has members with known ALEC ties who voted to pass the bill:

Sen. Mike Kowall
Sen. David Roberson
After passing the Senate committee, the bill sat for over a year waiting to be heard. On December 6, 2012 the Senate
brought HB 4003 to the floor
, and inserted language which applied the "Right to Work" provision to the private sector. Again, ALEC members stick out among the supporters of the bill:
Sen. Darwin Booher
Sen. Dave Hildenbrand
Sen. Arlan B. Meekhoof
Sen. Bruce Caswell
Sen. John Moolenar
Sen. David B. Robertson
Sen. Tonya Schuitmaker
Sen. Geoff Hansen
Sen. Mike Kowall
Shortly afterwards, the bill was returned to the House. There it was passed, and yesterday Gov. Snyder signed the bill.
The Final ALEC Connection
One of the weirder aspects of the long, strange trip of HB 4003 is that it just now, after a year of inaction, emerged from Senate committee onto the floor. The timing is made all the more interesting, because the week before it was resurrected ALEC held its annual States and Nation conference in Washington, D.C. And, it's hear that transparency almost totally breaks down. What we do know from documents obtained by the Center for Media and Democracy is that the "Right to Work" bill was on the agenda at this meeting.
Every 5 years, ALEC requires that its model bills be renewed, or fall to a sunset provision. This sunset provision meant that the "Right to Work Bill" was put back on the table for renewal. Moreover, James Sherk of the Heritage Foundation gave a presentation entitled, "How to Limit Union Influence and Expand Worker Choice." We don't have the text of this presentation, but I imagine that there was a work or two there about the "benefits" of "Right to Work."
Troubling as this all is, the final kicker is that for those Michigan legislators who did attend, all expenses were almost certainly paid for by by ALEC scholarships. These scholarships are coordinated by state chairs, in this case Sen. Tonya Schuitmaker, who accept unregulated funds from corporate donors in order to fund them. We have little idea who provided these funds. We have little idea which legislators have accepted them. And we have little idea how much access they buy. Typically, state ethics rules prohibit legislators from accepting any gift valued in excess of $25 from a lobbyist. From the little information that we have about the amounts granted in scholarship, we know that legislators have been reimbursed thousands of dollars from these funds.
The scandal here is that just twenty short years ago, illegal contributions of as little as $20, drew FBI scrutiny in Operation Boptrot which ended up sending 15 members of the KY Legislature to federal prison. How times change.