The title is a quote by transwoman Rebeccas Juro, who has been long unemployed and is still looking for work.
CNN Money has published a series of vignettes covering what it is like to be transgender and seeking employment. That's not a problem the majority of society has ever considered worrying about. In fact surveys have shown that somewhere near 90% of the population believe that we have employment protections from discrimination already. That makes it quite difficult to actually obtain them.
There are employment protections for transpeople in the District of Columbia and 16 states (in approximate order of adoption: Minnesota, Rhode Island, California, New Mexico, Maine, Illinois, Washington, Colorado, Iowa, New Jersey, Vermont, Oregon, Hawaii, Connecticut, Nevada, Massachusetts). Five other states have protections on the basis of sexual orientation, but not gender identity: Wisconsin, New Hampshire, Maryland, New York, and Delaware.
The Employment Non-Discrimination Act would do wonders, but there is little hope given the hatefulness of the present House of Representatives. President Obama could issue an executive order to prohibit discrimination by federal contractors but has chosen not to do so.
There was an EEOC ruling last April that says we are protected under Title VII, but the majority of folks don't have the resources to pursue EEOC claims.

It will be binding on all federal agencies and departments. What this means is that investigators from the 53 district offices of the EEOC will now accept claims brought by transgender individuals and the EEOC's legal staff can bring lawsuits against employers the agency has determined have discriminated against transgender employees or job applicants.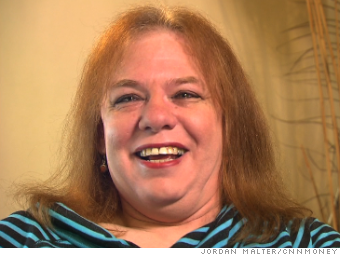 Juro has been unemployed
for four years. She has had 20 interviews, but no offers.
With as many non-trans people out of work as there are, it seems almost no one is going to hire a trans woman when there's another choice.

--Juro
They don't come out and say 'we're not hiring trannies,' but sometimes they laugh in my face. In many cases, I'll submit a resume and get to the place, and they say we have nothing available. But then I'll still see ads online.

If that happens once or twice, you say 'who knows?' But once it happens 10 to 12 times in a row you say 'there's a pattern here.' And even when I have had jobs I would always be the last hired and first fired.

I have bills that have racked up -- somewhere in the $60,000 range -- so I get calls about them all the time.

I live with my mother. I don't have a situation where I'm on the street. A lot of my trans friends aren't so lucky.

--Rebecca Juro
The National Center for Transgender Equality study Injustice at Every Turn estimated the transgender jobless rate at 14% when it was released in 2011, which was about twice the national rate at the time the data were collected. The unemployment rate for black transpeople was about 28%.
A November 2012 study by Prudential placed the overall unemployment rate for transpeople at 12%.
Keisha Allen, a black, 45-year-old transgender woman, has been working as a prostitute since her mother kicked her out of the house at age 16 for being transgender. She makes less than $12,000 a year and lives at a homeless shelter, where she is forced to stay in the men's section. She has applied for hundreds of entry-level jobs that don't require a college degree -- from dishwashers to cashiers -- without making it past the first interview.
There weren't very many options for me as a transgender woman -- or kid, really -- of color. Because I was homeless, the only thing I could find was the sex trade. I had no education, no jobs, no parents I could go to -- I had no one to turn to. And now from age 16 to 45, I've been homeless on the street on my own.
Keisha's problem is that neither her name nor her appearance match her identification documents. So she never makes it past, "Hello."
Ideally Keisha says she would like to become a restaurant manager.
Jennifer Chavez had 4o years of experience as an auto mechanic before being fired by her boss two months after telling her boss she would be transitioning. Her coworkers stopped talking to her and outed her to the rest of the Atlanta auto service community. She says she was blackballed by auto dealerships. After 300 applications, she landed a commission-based job at Pep Boys, where she now makes half of what she earned previously.

Even with a job, I'm sweating the next payment on my house -- I have had to borrow from friends and family to make some payments.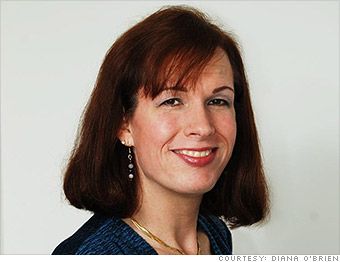 Diana O'Brien, 42, is unemployed
in Wilton Manors, FL.
I was working at a spa while I finished transitioning, and my boss insisted I couldn't present myself as female at work -- and even bought me men's polo shirts to wear as soon as I bought women's shirts.

--O'Brien
She left because of the hostile environment. She has applied for 213 jobs. SHe thought she had a job with a coffee equipment company, until she discussed her name change with her potential employer. All if the sudden the job vanished.
I've spent all my savings now and sold almost all my valuable personal property. I'm doing dog walking and handywoman projects to get by -- I brought in $725 in the month of January.

--O'Brien
She feeds herself with food from a Church pantry and $47 per month of food stamps. She faces possible homelessness in April.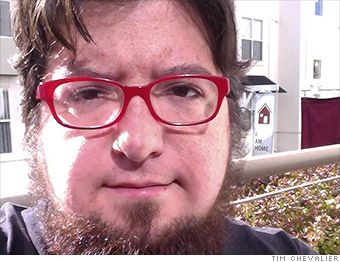 Tim Chevalier considers himself relatively privileged. He has been able to maintain employment with a well-paying job. His problems are health-related.

I had a transition-related procedure last year and was expecting to pay for that, because my insurance excluded it. Then I got unlucky, and about 10 days after the surgery I had to go to the emergency room. I would have thought my emergency health insurance covered that, but they denied it. So I ended up with total bills of around $50,000.
Tim has given up his apartment and moved into a community with yurts to save money. He has cut his rent expense to $750 per month.
Tim went to college, got a graduate degree and got a professional job.

[I] did everything I was supposed to do. I see a lot of my friends and peers doing really well, and I would be doing well too if I didn't have all this debt.

--Chevalier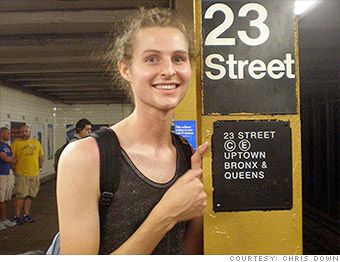 Chris Down had seasonal work at Macy's
, but that ended in January.
I've probably applied to a hundred jobs. Because I've applied online, they don't really know I'm transgender. And my name, Chris, can go either way. But I can definitely say there have been moments in interviews when I feel like maybe people weren't being super open-minded and were unsure how to react.

--Chris Down
Chris graduated from SUNY-Oneonta before moving to the City in 2011. She is currently being supported by her parents, who she hopes will not cut her off.
I've personally been lucky to remain employed...and I am quite aware of the fact. When I began transition in Arkansas in 1992, the powers that be would have strongly preferred that I wasn't working at the University of Central Arkansas. But I held on. I'm stubborn.
When I finally had my fill of living in Arkansas, we moved to New Jersey in 2000 and I managed to barely survive on adjunct faculty work for a year before I was invited to apply for a tenure-track job outside my area of expertise (I was hired to teach computer programming, which I knew nothing about; I'm a mathematician). I gained tenure here at Bloomfield, like I had at UCA, but in a different subject area. Now...a year and change before I shall retire, I am back teaching math.
It could, however, very easily have gone very different.