A few days ago, I looked at a newly published report that challenges the economic wisdom behind the tar sands gold rush in Canada. "The Bitumen Cliff," written by the Canadian Centre for Policy Alternatives, points out that economies built around natural resource extraction are doomed to fail. This typically goes beyond bubble economics because government policies and the rest of the economy reorganize to primarily benefit the companies harvesting the resource. There is plenty of history to back up the concepts, including the "Dutch disease" phenomenon. While The Bitumen Cliff was written as a cautionary tale for Canada in its tar sands frenzy, I want to call attention to an economy that has gone over the bitumen cliff, namely West Virginia.
Before getting too far, let me make my biases clear. I am a hillbilly at heart and by blood. My father came from Pikeville in the heart of eastern Kentucky. Many in my mother's family came from the western Virginia sticks. My wife comes from southern West Virginia. It is all coal country and ground zero for mountaintop removal mining. Relatives with black lung, climate change, and mountaintop removal mining make me openly antagonistic toward the coal industry.
West Virginia has been dependent on bituminous coal for nearly a century. There was a time when most people in the state worked for King Coal or in industries that served it. Those days are over. The legacy of coal will be economic despair, decaying infrastructure, impotent government, poisoned waters, and abandoned mines and slurry ponds. Natural resource extraction has never been nor will ever be a sound foundation for economic development at the local, state, or federal level. West Virginia is the perfect example.
What does going over the bitumen cliff look like? The West Virginia Center on Budget and Policy (WVCBP) produced a report last year that documents the state's dire condition in excruciating detail, although the title is innocuous: "Creating an Economic Diversification Trust Fund." It opens with a quote from the late Sen. Robert Byrd from his autobiography about his beloved home state.

It is a state whose rich resources have been largely owned and exploited by outside interests. Absentee owners, while living outside the state, wrested from the
West Virginia earth the wealth that made them rich — rich from the toil and sweat and blood and tears of the people in the hill country who worked out their lives, all
too often, for a pittance.
Those absentee landlords are coal and railroad companies; coal is the rich resource in question. As Byrd eloquently notes, those riches have not trickled down to the hills and hollers. Moreover, nearly
80% of the state's mineral resources
remain in the hands of out-of-state companies.
Slurry pond failure in Lyburn, WV, 2002
Here are some noteworthy statistics compiled by the WVCBP about how West Virginia stacks up in the nation: economic diversity (46th), workforce participation (50th), post-secondary education (50th), and fiscal capacity (47th). Crumbling infrastructure ($8 billion in unmet needs) and high rates of poverty and disability compound the nightmare. Dependence on coal has left the state at the bottom of the economic barrel with few resources to transition to a broader based, technologically-sophisticated economy.
Since the election of Barack Obama, politicians in West Virginia have blamed the state's woes on the president and the federal government. These politicians, whether from the Democratic or Republican Party, are calculated liars. Here are some clever deceptions in the inaugural address of Earl Tomblin as governor of West Virginia in January.

Our state budget is not just balanced; we continue to have a budget surplus! Our credit rating is higher than it has been in decades and our Rainy Day Fund is the envy of the nation.
The state has cut spending on education, particularly higher education, and infrastructure while relying on the federal government to support many of its citizens, particularly the large percentage of disabled, old, and poor in the population. West Virginia has by far the lowest percentage of workforce participation of any state in the nation. Some numbers from WVCBP report:
In November 2011, only 775,600 state residents were in the labor force, the lowest number in 18 years. For more than 30 years, West Virginia consistently has had the lowest labor force participation rate in the country, even among prime age workers. In 2010, only 54.5 percent of the state's potential workforce was working or seeking employment, compared with the national average rate of 64.7 percent. West Virginia's participation rate is four percentage points below the next lowest state, Mississippi.
Having an economy built around coal is a major factor. Mechanization and reliance on mountaintop removal mining help cut the mining workforce from 70,000 to 21,000 in the past three decades, while allowing coal production to remain steady and industry profits to remain high. There are few non-coal employment opportunities to pick up the slack as the coal industry downsizes its labor force.
Tomblin went on to pledge allegiance to King Coal and Prince Gas.

We must continue to promote our energy industries. Our nation, our state, and our great citizens depend on West Virginia to power their future. I will work tirelessly to defend these industries. I will fight for our state's coal industry, the backbone of our economy.
He also spoke of the state's sworn enemies.
We will continue to take on the federal government and oppose efforts by the EPA and others to stop production of the most efficient fuel our country knows.
Tomblin received the most applause when he complained about the time he spends "fighting the federal government to get off our backs and leave us alone."
Acid Mine Drainage
A
recent editorial
in the Charleston Gazette pointed out the disingenuous nature of those claims. The federal government contributes $11.5 billion to the state economy, paying the living expenses of 700,000 residents while the state government collects only $4.7 billion in taxes. And the federal contribution does not count federal highway and transportation funds, military retirement, and disaster relief. It also means that federal austerity programs will send West Virginia into an economic tailspin. By the way, the Rainy Fund that supposedly is the envy of the nation contains
less than $1 billion
.
So how does a state that has generated enormous wealth from coal sit mired in a failed economy while political leaders continue to pursue policies that will only benefit the coal industry? The Bitumen Cliff warns of the potential for the oil industry to take over government.

In general, the notion of a petro-state has to do with the extent to which the petroleum industry exercises a disproportionate amount of power and influence over public policy, in comparison to and to the detriment of, other sectors of the economy and society.
In West Virginia, takeover by the coal industry is complete. Here are few indicators.
An analysis of the state's budget in 2009 by Downstream Strategies found that coal-related revenues barely covered costs from infrastructure and oversight.

Among the report's findings were that the coal industry in 2009 paid $307.3 million in severance taxes, corporate net income tax, business franchise tax and other taxes. But the state spent $113.7 million to support units of government that regulate mining and for the repair of the state's coal-haul roads. So, the report concluded that the industry in this respect provided a net benefit to the state budget of nearly $194 million.

But the state provides a variety of a tax credits and subsidies that amounted to nearly $174 million in 2009 -- all of which show up in the report as "expenditures," or costs to the state budget of the industry.
Revenues generated by coal have remained stable, government costs associated with coal have increased, and state officials have created enormous tax breaks and subsidies for the coal industry. Without $174 million in corporate welfare payments, West Virginia would have close to
$200 million every year
to invest in education, job training, and creating a more diverse economy. There is enormous
potential for clean energy development
in the state, but loyalty to King Coal means opposing development of alternatives.
Any talk of increasing severance taxes or decreasing subsidies is quickly shot down. The WVCDP report called for a small increase in severance taxes to create modest permanent fund to help state residents prepare for a life beyond coal. It was ignored. The only viable political option is to cut the budget for agencies responsible for environmental regulation and worker safety.
Rather than talk honestly about the future prospects for coal-related employment, state officials have resorted to fudge and fabrication on coal job numbers.
Very little in West Virginia government passes the smell test. Here are bills now up for consideration in the state legislature. HB 2571 creates a special exemption to allow coal company representatives with active or pending permits to serve on the Environmental Control Board. What possible harm could come from letting foxes decide henhouse security? HB 2579 amends the state's water quality standards so coal companies can discharge more selenium into streams and rivers. Selenium beyond naturally occurring trace levels is toxic to aquatic life and poses significant human health risks, but costs coal companies a great deal to clean up. Bills like these are the rule, not the exception.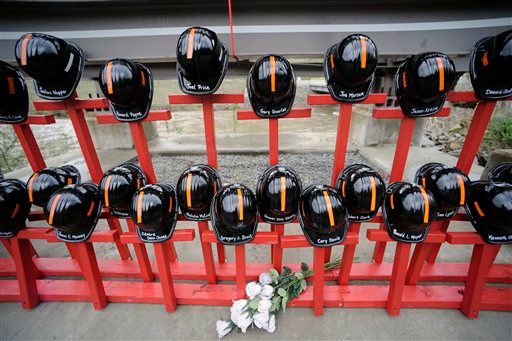 The final report by the panel commissioned by the governor to investigate the 2010 Upper Big Branch mine disaster has a chapter on "How could this happen in West Virginia." That chapter describes influence peddling by Massey kingpin Don Blankenship in great detail.

"What is factual and well documented is that Massey Energy Chairman and CEO Don Blankenship had a long history of wielding or attempting to wield influence in the seats of government."
No one in their right mind thinks that West Virginia regulates the coal industry. The coal industry regulates the state and has left the state in shambles.
There is no way to justify the costs of coal for the residents of West Virginia, even when it was the state's primary source of employment. Life with coal was a disaster for all but the coal industry. Bloody labor fights. Black lung disease. Mining disasters. Tricks and theft to hand mineral rights to corporate interests. Corrupt, stupid, and cowardly politicians making sure nothing but filth trickled down to residents. Cancer and chronic diseases rampant in people living near mines. Yet, even when the jobs are becoming scarce and recoverable reserves uncertain, few in power and in the media dare talk about life after coal. State political leaders simply lack the integrity to confront the toxic legacy of coal from poisoned waters, deadly slurry impoundments, millions of acres destroyed by mountaintop removal mining, and tens of thousands of abandoned mining sites.

Mountaintop Removal Mine, Kayford Mountain, WV
The failure of West Virginia's coal-based economy also creates social conflict. People that question industry practices and political policies are now
subject to intimidation
. Taking a stand means risking your life. Just ask Marie Gunnoe, a vocal opponent of mountaintop removal mining.
Gunnoe is one of the toughest people I've ever hung out with. The first time I met her, back in 2001, she gave me a tour of her home in Boone County, West Virginia, which had recently been devastated by floods caused by run-off from a mountaintop removal mine above her home. Then she tucked a silver .32 caliber pistol under her belt and took me on a hike up through blasted rubble into the mine. Protection from bears? "Or angry coal miners," she told me.

Gunnoe knows how rough things can get in the coalfields. I've been with her when she stared down a six-foot-tall miner at a gas station who clearly wanted to hurt her. Coal trucks have tried to force her car off the road, her brake lines have been slashed, and her family dog, a Rottweiler named Chaos, wound up dead at her son's bus stop, shot in the chest – a clear warning to back off.
The "
war on coal
" propaganda has further inflamed passions. Even the once proud United Mine Workers of America supports the coal industry on virtually every policy, even the job-destroying transition to mountaintop removal mining. Progressive political leadership is hard to find. Democrats have gone from reliable advocates for workers rights and progressive social policies to coal industry cheerleaders.
"No leader or potential leader can talk honestly about both the damage coal does to workers, the environment and the climate, but also express concern about the lack of any plan for doing anything else in our coalfield communities."
Most of my relatives that remain in coal country admit there are no opportunities beyond a few coal industry jobs. When I press them on the solution, they offer bromides like "maybe coal will make a comeback" or "we always find a way to get by." They have gone from fighting for decent pay and benefits to hoping a crumb or two will fall their way. In their minds, forcing the coal industry to pay more in taxes and clean up their messes will only make a bad situation worse. It feels like I am listening to Stockholm Syndrome victims.
I see little reason for optimism. It will take a miracle for progressive leadership to emerge in West Virginia until the coal industry collapses and coal money dries up in the political system. At that point, the challenges will be daunting and people will be desperate.
Those of us demanding action on climate change and fossil fuels industries pay to remediate their environmental impacts are often derided as naive. We are simply supposed to take it on faith that the economic benefits of everything from tar sands pipelines to mountaintop removal mining to the rush to fracture shale formations across the nation outweigh long-term costs and consequences. West Virginia is the perfect example for why we need to challenge those claims. Building an economy around fossil fuels extraction is guaranteed to fail and leave toxic wastes for future generations to clean up.

"In the US and across the globe, the movement for Climate Justice has been steadily growing, not simply demanding action on climate, but demanding rights-based and justice-based action on climate that confronts false solutions, root causes of climate change and amplifies the voices of those least responsible and most directly impacted."